Thanking God today...
181. ...for sunshine, and rain.
182. ...for getting to spend the day yesterday with 14 out of my 18 (+ 2 more on the way) sweet little-and-not-so-little nephews and nieces...
183. ...for guacamole made with perfectly ripe avocados and lots of cilantro. YUMMY!
184. ...for a husband who holds me accountable and makes me think through things.
185. ...for kids who are interested in learning things.
186. ...for the gift of Reason.
187. ...for modern medicine (again).
188. ...for feeling better today than I have in two weeks.
189. ...that the river that was running right past my front door during a heavy rain last week stayed
outside
my door.
190. ...for my brother Zack.
Are you giving thanks today? Link up with us over at...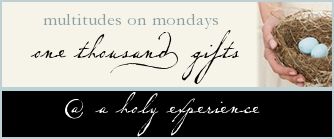 Every good gift and every perfect gift is from above, and cometh down from the Father of lights, with whom is no variableness, neither shadow of turning.
-James 1:17, KJV