Thou hast given so much to me,
Give one thing more, - a grateful heart;
Not thankful when it pleaseth me,
As if Thy blessings had spare days,
But such a heart whose pulse may be Thy praise.

~George Herbert

Thanking God today...
231. ...for the gift of a "new-to-me" laptop (thank you too, Mom!).

232. ...for birds singing.

233. ...for a fun and relaxing weekend at the lake with some of my favorite people and my favorite dog.
234. ...for lotion-infused tissues and Vicks Vap-O-Rub.
235. ...for herbs and spices that make food so much more interesting.
236. ...for some beautiful flowers and a sweet note with encouragement and affirmation from a friend, waiting to surprise me when I got home.
237. ...for Communion - a time to remember the Body that was broken and the Blood that was shed for me.
238. ...for the Cross.
239. ...for the Empty Tomb.
240. ... for a living, risen Savior and the hope of eternal life with Him.
Are you giving thanks today? Join us over at...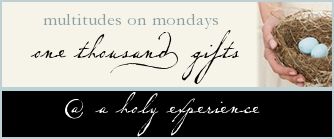 I hope you had a happy Easter...