How's that for perspective?
We ALWAYS have something for which to be thankful....
Today, I am thanking God...
# 421. ... for another year of life, and for a great day of celebrating that with Josh and family.
# 422. ... for the endless variety of plants that God created, and the creative things you can do with them...
# 423. ... for Ridgewood BBQ and Mona Lisa Gelato with friends...


# 424. ... for Pumpkin Spice lattes.
# 425. ... for snappy fall weather - blue skies, white puffy clouds, a little nip in the air, etc.
# 426. ... for cozy sweaters.
# 427. ... for two nice weeks of vacation for Josh... and that the end of the first leg of PA school is in sight!
# 428. ... for being on the same page as my husband on just about everything... wow, what a difference that makes.
# 429. ... for hot tea. I'm addicted.
# 430. ... that He is Holy....
Linking up at: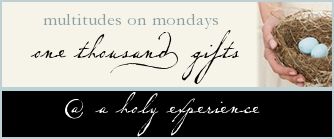 Today I'm participating in a
giveaway
over at my friend Joy's new blog,
Grace Full Mama.
She will be giving away one of my handmade necklaces (your choice!), along with a couple of other great prizes!