Thanking God today...
# 481. ... for providing a great furnished house for us to rent while we're in VA for the next few months. It has everything we needed/wanted, nice landlords, and is budget-friendly - totally hassle-free compared to the other options we were considering. Yay.
# 482. ... for books by G. K. Chesterton, specifically
Orthodoxy
at the moment. The way he thinks/writes makes me chuckle out loud while reading.
# 483. ... for orders every day since I reopened my shop...AFTER Christmas! (...and thank
you
for that as well, dear readers...)
# 484. ... for the chance to see what it's like to live pretty close to the beach - a first for me.
# 485. ... for opportunities to see and experience new things and places.
# 486. ... that one of Josh's sisters and her family live nearby, so we're not totally unconnected in this new place.
# 487. ... for a new Keurig coffee maker - oh so good...
# 488. ... for a bunch of opportunities over the holidays to spend time with friends and family before leaving.
# 489. ... that my Mom's dog wasn't lost or dog-napped, just hiding in the woodpile....
# 490. ... for a New Year and 4 new lives in Christ (three of my nephews and once niece)...
Care to join in with your own list?
Visit Ann's blog....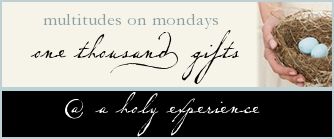 Happy Monday.