"I would maintain that thanks are the highest form of thought;
and that gratitude is happiness doubled by wonder."
- G. K. Chesterton

Thanking God today....

# 531. ... for getting a LOT accomplished over the last three weeks... (packing, cleaning, moving, unpacking, spring cleaning, getting my life back in order.... ahhh....)

# 532. ... for being back in Tennessee (in my own home with my own stuff)... my favorite place in the world.
# 533. ... for getting to take this guy to HIS favorite place again every day - the field behind our house.

# 534. ... for a fun and relaxing weekend at the lake with my parents, my brother, his kids, and my dog who loves to fish.
# 535. ... for a lunch invitation and beautiful flowers from a friend I haven't seen much lately.
# 536. ... that we're able to be involved in our home Bible study groups and church again after being gone for 2 1/2 months.
# 537. ... for the spring blossoms popping out everywhere. Gorgeous.
# 538. ... for some remarkably warm and glorious weather... in MARCH!
# 539. ... for the hymn, "It Is Well," and getting to sing it yesterday...
# 540. ... for the fact that no matter what happens, I CAN say "it is well with my soul."
Linking up at: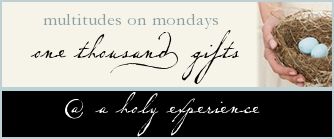 Don't forget - there's still time to enter my facebook giveaway! Simply "like"
my fan page
, and you'll be entered to win some surprise items from
my Etsy shop
once the page reaches 500 likes!