Be like the bird, who
Halting in his flight
On limb too slight
Feels it give way beneath him,
Yet sings
Knowing he hath wings.
- Victor Hugo
I have to say, I'm feeling pretty discouraged about a number of things today, and frankly, writing a Pollyanna-esque post about how all is light and sunshine isn't my first impulse at the moment...
....and yet...
...we are supposed to give thanks in ALL circumstances, even the discouraging ones.
I am a firm believer in the fact that, while I can't control the people or circumstances around me, I can control the way I react to those people and circumstances, and I determine my own attitude. So, in spite of my inclinations, I'm going to continue counting my blessings, knowing that doing so will be a good reminder that I AM greatly blessed in so many ways, and that God is always good.
So here we go.
Today, I am thanking God...
# 551. ... that He is
"El Roi," the God who sees
. He sees everything, He sees me, He sees the injustice in the world, He sees the pain of those who are suffering, and He cares.
# 552. ... that in addition to seeing and caring about all of those things, He will also make them all right one day, and use what people intended for evil for good.
# 553. ... that we serve a RISEN Savior, that the tomb was empty, that we have the hope of eternal life with the one who conquered sin and death. Yes.
# 554. ... for beautiful spring days and the opportunity to break out
ol' Louis (my bicycle)
and go for some rides again.
# 555. ... for insulated coffee mugs (to keep my coffee piping hot, just the way I like it).
# 556. ... for the chance to go on a couple of fun outings with my parents last week. (Thanks, Mom and Dad!)
# 557. ... for peace about a tough decision.
# 558. ... for hope.
# 559. ... for some good news about possible duty stations for next year.
# 560. ... that God will meet all of my needs.
Joining Ann today: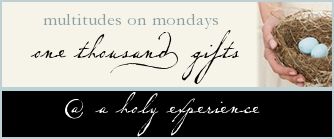 First image:
"This is My Father's World" by Beth Stone,
Prints available in my
Etsy shop.