Well, it's been a sad week on many fronts. The shootings in Colorado, as well as some troubles closer to home, have been weighing heavy on my mind... However,
if a woman who was in the theater that terrible night can express gratitude and faith in God's goodness
in the face of horrific circumstances and blatant evil, then I can too... So I continue to count...
Thanking God today...
# 681. ... that the CO shooter's gun jammed and prevented him from taking any more lives than he did, and that he was captured.
# 682. ... for my parents, who are taking on some added responsibilities in another difficult situation, and are doing so without complaint.
# 683. ... for the inspiring testimony and life of WWII POW vet, Louis Zamperini, and many others like him, who faced unbelievably difficult circumstances in their service of this country.
# 684. ... for the power of the Gospel to change lives, and for the power of forgiveness to set the captive free.
# 685. ... that He always seems to orchestrate events and influences in my life so that I hear or read or see something that I need to hear/see/read, just at the moment when I need it.
# 686. ... for the safety net of my husband, who "reigns me in" when I need it and consequently keeps me from getting involved in unnecessary drama (if I can just listen to him!).
# 687. ... for the excitement of two upcoming weddings for two friends.
# 688. ... for
flashmobs
, and for the fact that sometimes they wind up being spontaneous "
worship services
" due to the music selections... It makes me think of the verse that says, "...that at the name of Jesus, every knee shall bow..." - I'm really looking forward to that day.
# 689. ... for smooth-writing pens and clean new notebooks.
# 690. ... for kindness.
Joining Ann today...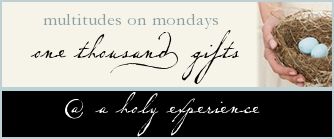 My prayers go out today on behalf of the injured and the families of the victims of the CO shooting... I'm so sorry for your loss, and pray that God will uphold you during this difficult time.